On this page, ASA 2's managed template "Sortable_table" is used. It is specialized for displaying multiple products in a sortable table. It works perfectly with ASA 2 collections or smart collections. It is customizable in general and per shortcode.
Main features
Specialized for rendering sortable tables with multiple products
Responsive design
Customizable without programming skills
Note
Template "Sortable_table" does not yet work with AJAX mode.
Example
This first example is built with the following shortcode:
[asa2_collection tpl="Sortable_table" orderby="rating"]coffee_maker[/asa2_collection]
(* = affiliate link / image source: Amazon partner program)
Customization
On ASA 2's admin page "Templates" you can customize the general options of template "Sortable_table". These settings will effect every usage of this template.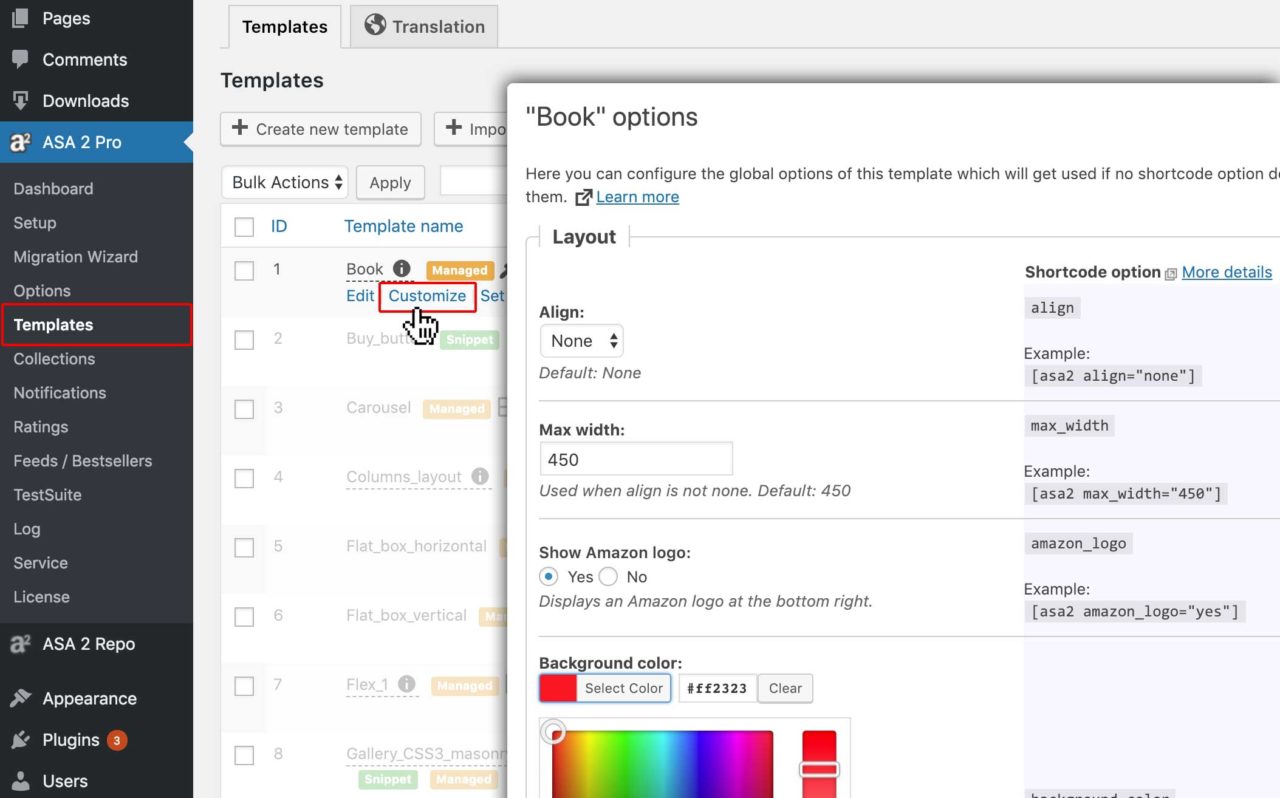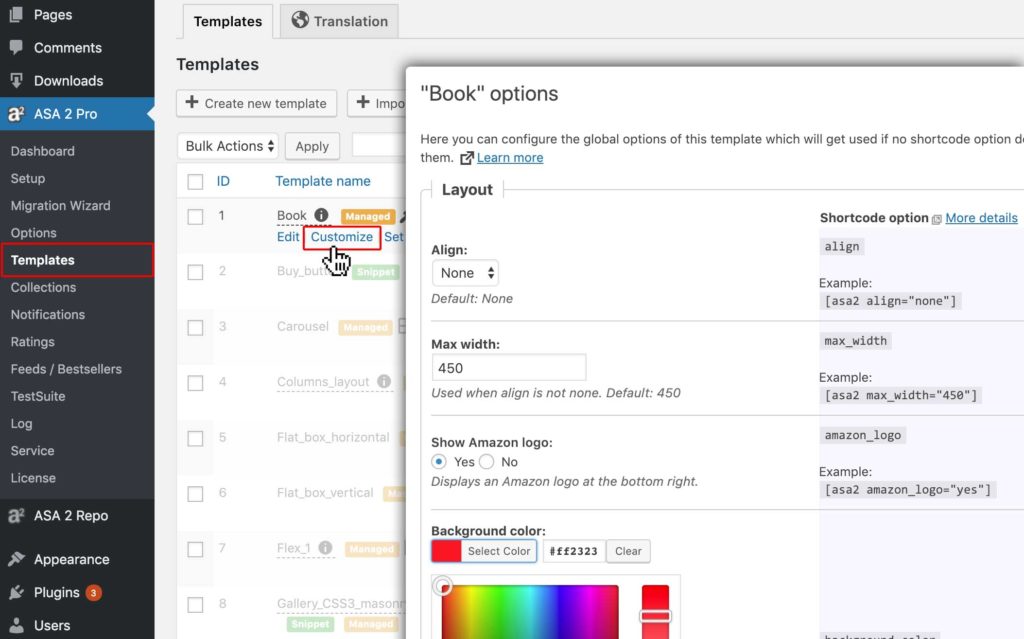 Shortcode options
Besides the general settings, it is possible to overwrite template options per shortcode.
For example, to show the medium image instead the generally configured, this shortcode would make the difference:
[asa2_smart_collection tpl="Sortable_table" image_size="medium" cat_slug="demo-products" /]
(* = affiliate link / image source: Amazon partner program)
Or to link the shop button to the buy page instead of the generally configured shop page, use option "button_target":
[asa2_smart_collection tpl="Sortable_table" button_target="buy" cat_slug="demo-products" /]
(* = affiliate link / image source: Amazon partner program)
Following you find a list of all available shortcode options for template "Columns_layout":
Option
Type
Values
Description
table_behavior
string

"0" (None)
"sortable" (Sortable)

Table behavior
col_image
bool
"yes" / "no"
Show image column
col_image_responsive
string

"desktop" (Desktop only)
"min-tablet-l" (Tablet landscape minimum)
"min-tablet" (Tablet minimum (portrait and landscape))
"min-mobile-l" (Mobile landscape minimum)
"min-mobile" (Mobile minimum (portrait and landscape))

Image column responsive settings
col_title
bool
"yes" / "no"
Show title column
col_title_responsive
string

"desktop" (Desktop only)
"min-tablet-l" (Tablet landscape minimum)
"min-tablet" (Tablet minimum (portrait and landscape))
"min-mobile-l" (Mobile landscape minimum)
"min-mobile" (Mobile minimum (portrait and landscape))

Title column responsive settings
col_release_date
bool
"yes" / "no"
Show release date column
col_release_date_responsive
string

"desktop" (Desktop only)
"min-tablet-l" (Tablet landscape minimum)
"min-tablet" (Tablet minimum (portrait and landscape))
"min-mobile-l" (Mobile landscape minimum)
"min-mobile" (Mobile minimum (portrait and landscape))

Release date column responsive settings
col_rating
bool
"yes" / "no"
Show rating column
col_rating_responsive
string

"desktop" (Desktop only)
"min-tablet-l" (Tablet landscape minimum)
"min-tablet" (Tablet minimum (portrait and landscape))
"min-mobile-l" (Mobile landscape minimum)
"min-mobile" (Mobile minimum (portrait and landscape))

Rating column responsive settings
col_price
bool
"yes" / "no"
Show price column
col_price_responsive
string

"desktop" (Desktop only)
"min-tablet-l" (Tablet landscape minimum)
"min-tablet" (Tablet minimum (portrait and landscape))
"min-mobile-l" (Mobile landscape minimum)
"min-mobile" (Mobile minimum (portrait and landscape))

Price column responsive settings
col_price_buy_button
bool
"yes" / "no"
Show buy button in price column on mobile devices
col_buy_button
bool
"yes" / "no"
Show buy button column
col_buy_button_responsive
string

"desktop" (Desktop only)
"min-tablet-l" (Tablet landscape minimum)
"min-tablet" (Tablet minimum (portrait and landscape))
"min-mobile-l" (Mobile landscape minimum)
"min-mobile" (Mobile minimum (portrait and landscape))

Buy button column responsive settings
button_target
string

"shop" (Shop page)
"buy" (Buy page)

Button target
image_size
string

"small" (Small)
"medium" (Medium)
"large" (Large)

Image size
image_max_width
int
0 between 999
Image max width (in pixels, 0 - 999, 0 for none)
image_effect
string

"0" (None, no linking at all)
"lightbox" (Add lightbox tag and link to large version)
"imgpreview" (Image preview to large version on mouse hover)
"link_to_shoppage" (Image links to shop page)

Image effect
title_link_to_shop_page
bool
"yes" / "no"
Title links to shop page
title_color
string
CSS compatible color value, like hex values (#ff0000) or color names (red)
Title color
title_font_size
int
1 between 500
Title font size (in percent)
title_length
int
0 between 999
Title max length. Limits the title to a maximum length of characters. 0 for unlimited
price_color
string
CSS compatible color value, like hex values (#ff0000) or color names (red)
Price color
disclaimer
string

"none" (None)
"asterisk_and_text" (Asterisk in title link and button. Disclaimer text below table.)
"asterisk_only" (Asterisk in title link and button. No disclaimer text.)

Disclaimer
More examples
[asa2_smart_collection tpl="Sortable_table" cat_slug="no-contract-cell-phones" orderby="rating" limit="5" /]
(* = affiliate link / image source: Amazon partner program)
---
[asa2_smart_collection tpl="Sortable_table" cat_slug="demo-products" orderby="rand" limit="20" is_available_main="true" col_release_date="yes" /]
(* = affiliate link / image source: Amazon partner program)
---